With over 50 years of experience in the cement industry,
Mathios has gained an insight to the requirements of a successful cement plant.
Being fully capable of providing EPC turnkey solutions for all types of cement plants, we strive to deliver the best solution for our customers.
Having forged strategic bonds with the largest cement groups in the world we have developed tailor made solutions for each application. Our experts and R&D teams will analyze production information and fuel inputs to reach the most suitable solution for any application, for all ranges of operating conditions – from mild to extreme – Mathios will deliver the best and most effective solution. We have been providing our high quality material in all parts of the plants focusing on improving energy efficiency, reduced downtime, shorter repair cycles and enhanced productivity. We are able to provide bricks, monolithic, precast sections as well as special parts.
Cyclone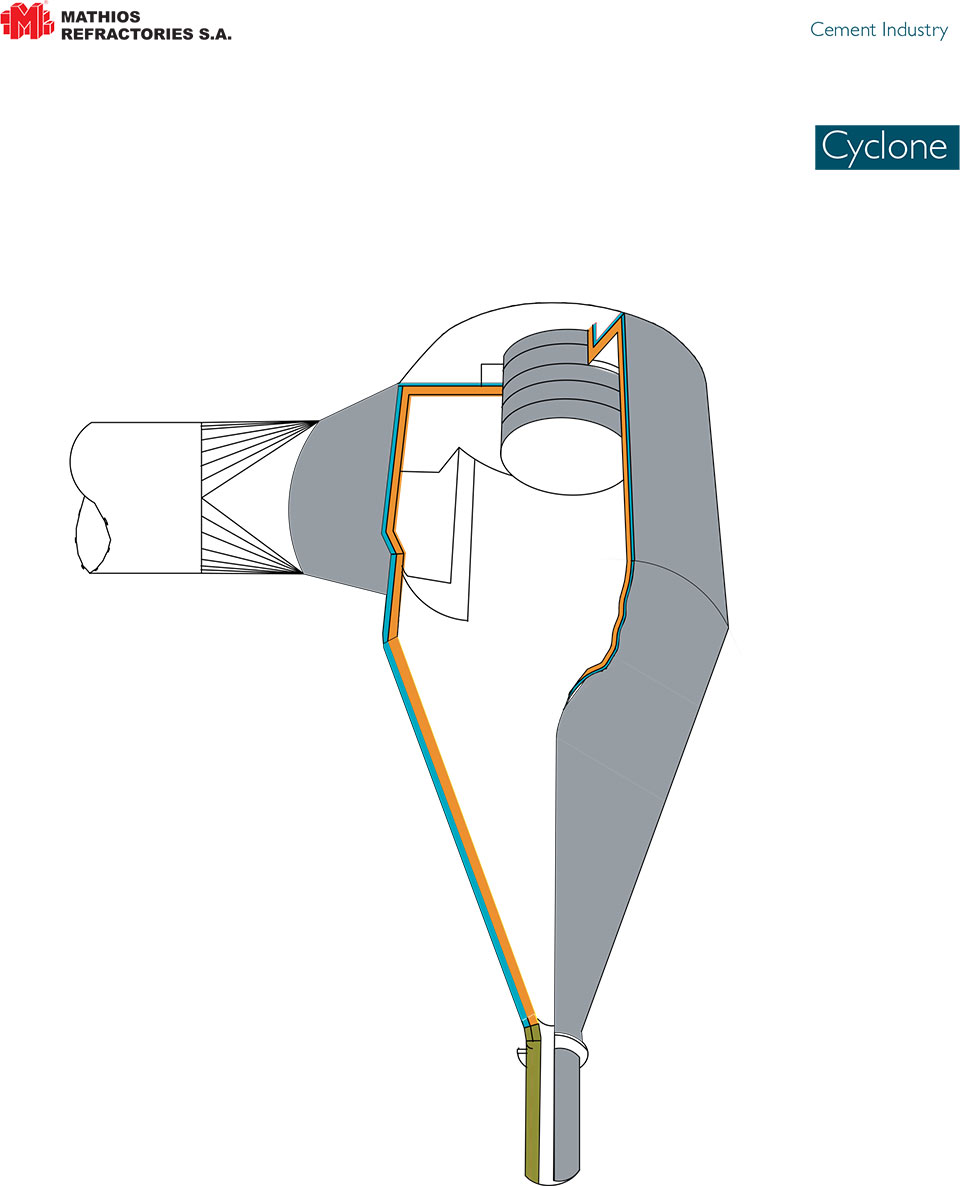 | | |
| --- | --- |
| (Insulating Lining) | MAT 125 / MAT 125 G |
| (Cyclone Lining) | MAT PLUS MC 35 / MAT PLUS MC 50 / MAT MICRON 60 M / MAT NANO 60 M / MAT 32 GS / MAT 50 GS / IDEAL M 334 / MAT PLUS 50 ML E / MAT PLUS 25 ZR |
| (Raw Mill Duct) | MAT PLUS 25 ZR / MAT PLUS 30 ZR G / MAT MICRON 80 E / MAT NANO 85 / MAT PLUS 82 UHS |
Calcinator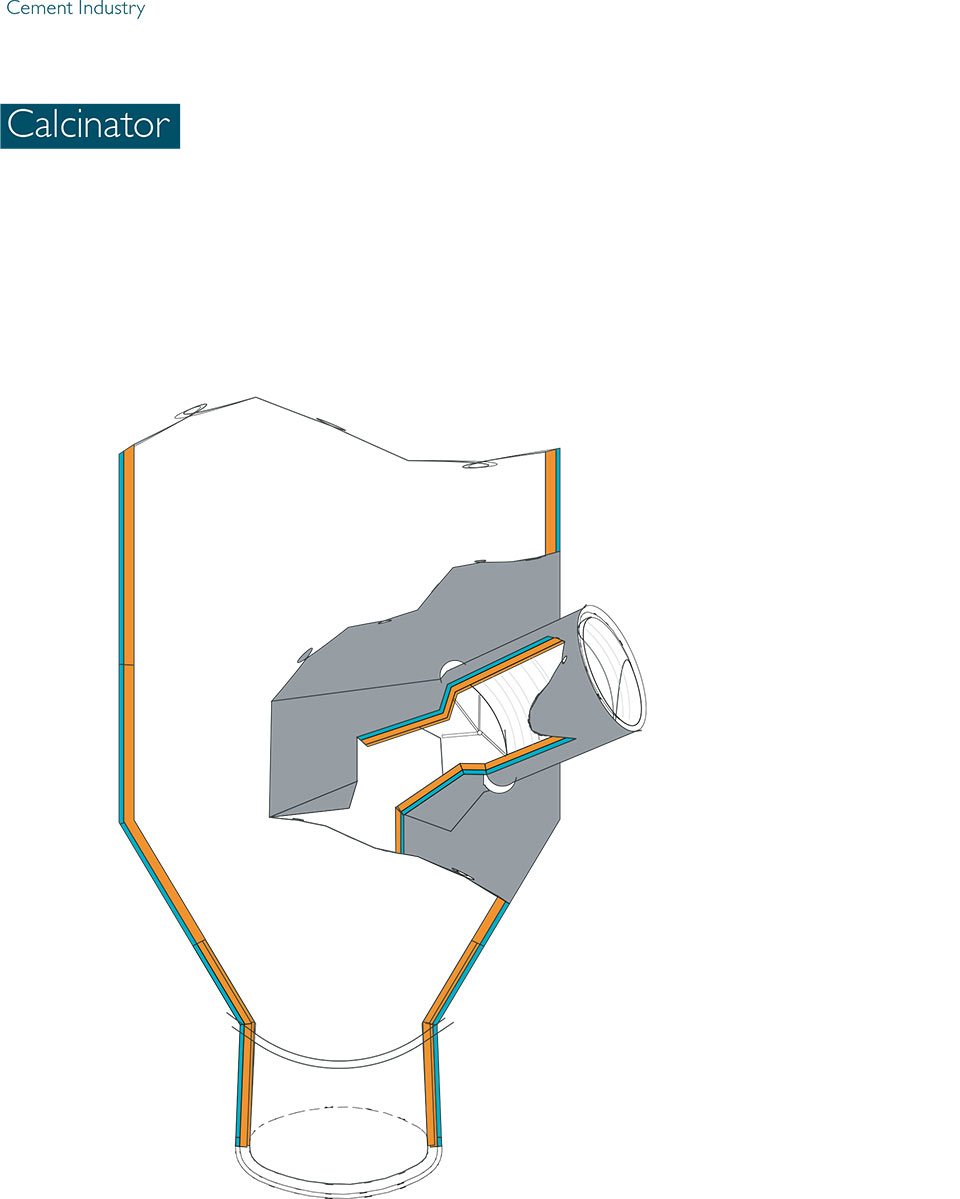 | | |
| --- | --- |
| (Insulating Lining) | MAT 125 / MAT 125 G |
| (Refractory Lining) | IDEAL MU 48 / IDEAL M 334 / MAT PLUS 82 UHS / MAT PLUS 60 M / MAT 80 GS / MAT PLUS 10 SiC M / MAT MICRON 60 M / MAT NANO 60 M / MAT MICRON 55 M SiC 10 / MAT NANO 55 M SiC 10 |
Riser Duct / Inlet Zone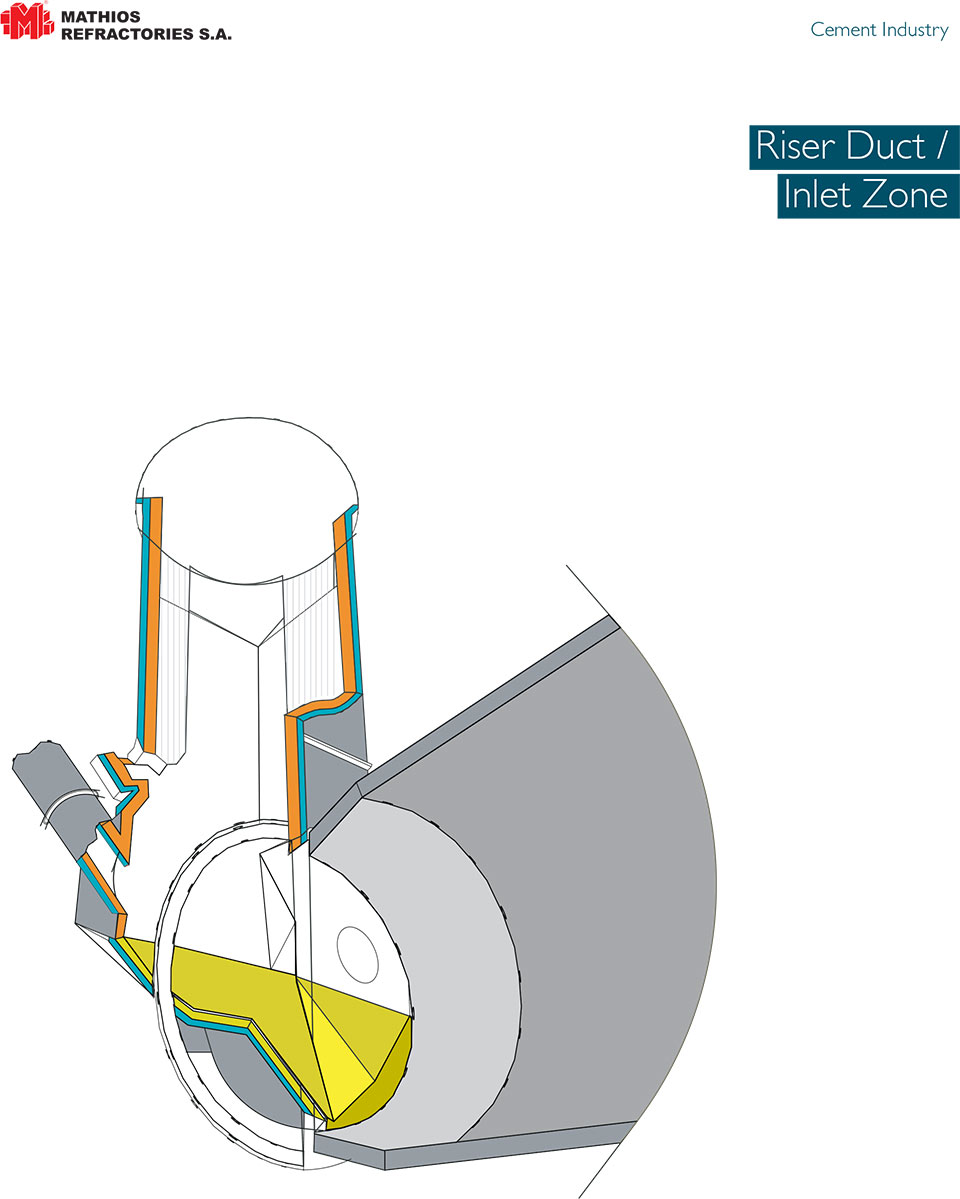 | | |
| --- | --- |
| (Insulating Lining) | MAT 125 / MAT 125 G |
| (Riser Duct) | MAT PLUS 60 M / MAT PLUS 22 ZR / MAT PLUS 10 SiC M / MAT MICRON ZS 10 M / MAT MICRON 60 M / MAT MICRON 55 M SiC 10 / MAT 30 ZR G / MAT NANO 60 M / MAT NANO ZS 10 M / MAT NANO 55 M SiC 10 / MAT 57 M SiC 5 GS / MAT PLUS 22 ZR SiC 5 |
| (Inlet Chamber) | MAT MICRON 60 M / MAT MICRON 55 M SiC 10 / MAT NANO 60 M / MAT NANO 55 M SiC 10 / MAT PLUS 22 ZR / MAT 30 ZR G / MAT PLUS 60 M / MAT PLUS 10 SIC M / MAT PLUS 82 UHS |
Cement Rotary Kiln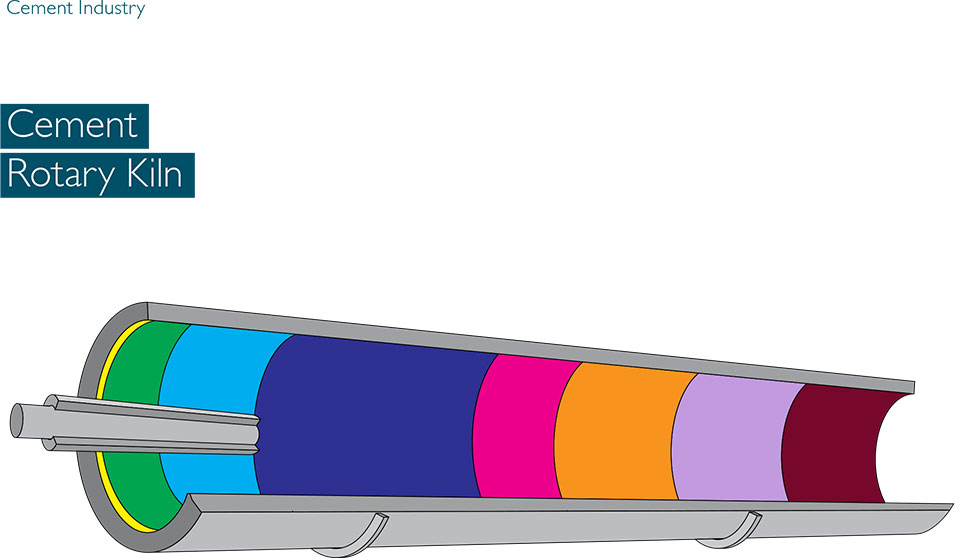 | | |
| --- | --- |
| (Nose Ring) | MAT PLUS 60 M / MAT MICRON 60 M |
| (Outlet Zone) | IDEAL 5 E / IDEAL A 2 / IDEAL A |
| (Lower Transition Zone) | IDEAL 5 E / IDEAL 5 H / IDEAL 8 E / IDEAL 8 H / IDEAL AZ |
| (Burning Zone) | IDEAL A / IDEAL 8 H / /IDEAL 11 H / IDEAL AZ |
| (Upper Transition Zone) | IDEAL 5 E / IDEAL 8 E / IDEAL 8 P / IDEAL 8 H |
| (Safety Zone) | IDEAL A 63 / IDEAL MU 60 / IDEAL MU 80 S / IDEAL B 80 / IDEAL A 45 SiC 25 / IDEAL A 52 SiC 15 |
| (Calcination Zone) | IDEAL MU 48 / IDEAL MU 60 / IDEAL B 50 Z |
| (Preheating Zone) | IDEAL M 310 / IDEAL M 334 / IDEAL 282 |
Grate Cooler / Bull Nose / Tertiary Air / Burner
| | |
| --- | --- |
| (Nose Ring) | MAT PLUS 60 A / MAT PLUS 60 M / MAT MICRON 60 M / MAT NANO 60 M |
| (Bull Nose) | MAT PLUS 60 M / MAT PLUS 10 SiC M / MAT PLUS 82 UHS / MAT MICRON 60 M / MAT NANO 60 M |
| (Kiln Hood) | MAT PLUS 60 M / MAT MICRON 60 M / MAT NANO 60 M / MAT 58 M GS / MAT 80 GS / MAT 57 HG |
| (Cooler-Hot Section) | MAT PLUS 80 / MAT PLUS 60 M / MAT MICRON 60 M / MAT NANO 60 M |
| (Cooler-Cool Section) | MAT PLUS MC 50 / MAT 50 GS / IDEAL M 310 / MAT MICRON 80 E / MAT NANO 85 |
| (Horseshoe) | MAT PLUS 30 SiC / MAT PLUS 60 SiC / MAT PLUS 30 SiC A / MAT MICRON 55 SiC 10 / MAT NANO 55 M SiC 10 / MAT NANO 25 SiC M |
| (Tertiary Air Duct) | MAT PLUS MC 50 / MAT 50 GS / MAT 60 GS / IDEAL M 334 / IDEAL B 50 Z / MAT MICRON 60 M / MAT NANO 60 M |
| (Burner) | MAT PLUS 60 M / MAT PLUS 10 SiC M / MAT MICRON 60 M / MAT NANO 60 M |
| (Insulating Lining) | MAT 125 / MAT 125 G |